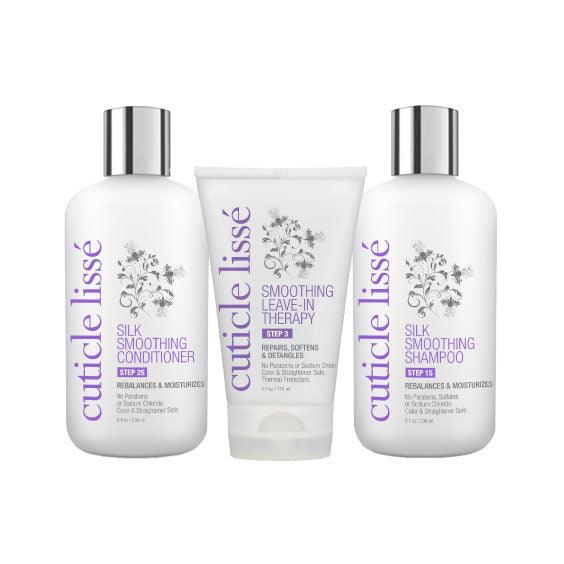 Zoom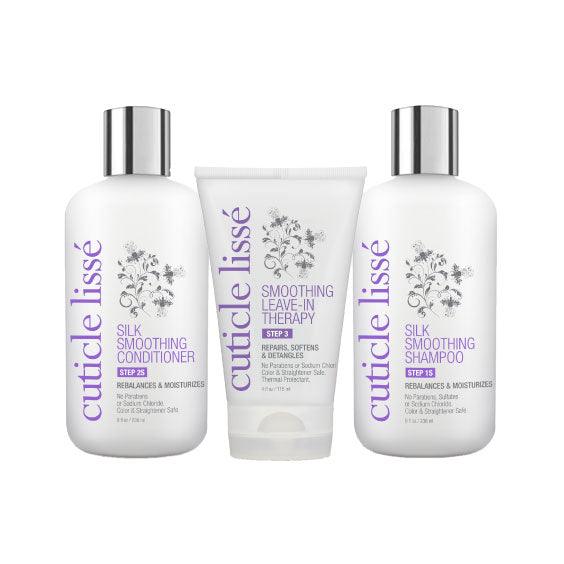 This starter kit includes the first three steps in our six step hair care line for hair extensions:
Silk Smoothing Hair Extension Shampoo
Silk Smoothing Hair Extension Conditioner
Smoothing Leave-In Therapy
These three products work together to cleanse, nourish and maximize the life of your hair and extensions. 
 Step 1 - Silk Smoothing Hair Extension Shampoo 
What makes this shampoo amazing for hair extensions is the fact that it is made with Silk Protein. When used in a shampoo, the Silk Protein penetrates and repairs the cuticle; hydrating, softening and strengthening the hair from the inside out. Your extensions will be left soft, smooth and lustrous. 
The cuticle is the outermost layer of the hair strand and is the hair's only defense to damage. Once the cuticle is stripped from your extension extensions your hair will quickly become dry, brittle and will lose its natural shine. Once it is stripped it will not grow back and your hair extensions will be ruined. 

The good news is that our Silk Smoothing Shampoo is 100% safe for your hair extensions and has many ingredients that are meant to strengthen the follicle and the cuticle. 
How To Use
Wet hair thoroughly with warm water, squeeze a small amount into the palm of your hand, and massage through the hair. If wearing hair extensions, apply more shampoo onto extensions using downward motion and squeezing technique. Create more lather by adding water to your hair. Rinse thoroughly and repeat if necessary. For best results, follow with Step 2 - Silk Smoothing Hair Extension Conditioner. 
Step 2 - Silk Smoothing Hair Extension Conditioner 

Our Silk Smoothing Conditioner gives your hair extensions an extra dose of deep penetrating Silk Proteins that further hydrate and strengthen your extensions. 

In addition to the Silk Protein, this conditioner also contains Wheat Amino Acids. This miracle ingredient has powerful healing properties and is essential to taking care of your hair extensions. Wheat Amino Acids have a thickening effect which increases your hair's surface area which in turn allows it to absorb more water. This is important, because water increases your hair's elasticity, reduces split ends and softens it.
How To Use: 
We recommend you use our Silk Smoothing Conditioner every time you wash your hair. Work a desired amount of conditioner through the hair, really focusing on the ends. Avoid using it on your roots where the extensions are adhered to avoid slippage and loosening of the extensions. 
For your hair extensions it is easiest to put the conditioner on a brush and comb the conditioner through your hair. We recommend you use a wide tooth comb or a detangling brush to brush.  Brush and pin up each row, one by one, until all your extension hair is conditioned. Leave on 1 to 2 minutes and rinse thoroughly. For best results follow with Step 3 - Smoothing Leave In Therapy. 
Step 3 - Smoothing Leave In Therapy 

After you rinse out the Silk Smoothing Conditioner you are going to want to finish things off with our Smoothing Leave In Therapy. . 

It contains key ingredients that are meant to both smooth hair and add shine, giving your extensions a natural and healthy glow. One key ingredient is Vitamin B5, a nutrient that is able to penetrate the hair's cortex and draw water into it.
Imagine Panthenol as a sponge that you are able to inject into the internal structure of your hair; the sponge will soak up water and give your extensions strength and flexibility. Panthenol also repairs damaged hair and seals split ends. 
How To Use 
After shampooing and conditioning, apply The Smoothing Leave In Therapy onto towel-dried hair, then work it through the hair, concentrating on the ends. For best results, follow with Step 4 - Argan Oil Shine Serum, then proceed to blow dry or let dry naturally. If you are going to be using hot styling tools make sure you continue to Step 5 to prevent damage to your extensions. 

All returns must be postmarked within 14 days of purchase date for a full refund. All returned product must be in new condition with minimal use. 
SHIPPING
Customer is responsible for all shipping charges, unless we made a mistake on our end. Please reach out with any questions. 
CONTACT US
(949) 425-1210
info@glamourlocks.com